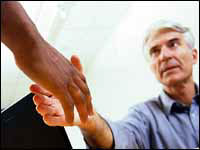 As a locally owned and operated company, we're committed to building long-term relationships with customers and employees alike.
We look for many qualities in the individuals we hire. A strong work ethic, a high level of organizational ability and effective interpersonal skills are a great start. However, there is one attribute in particular we seek: the never-ending passion for delivering great customer service.
If these are qualities you possess, you will find a rewarding career with us. We offer competitive compensation, ongoing training and a dynamic work experience that is both challenging and personally rewarding.
Current Openings...
Full Charge Bookeeper
City Neon is looking for well qualified full charge office Bookkeeper. Responsibilities include A/P, A/R and payroll. Candidate must have 5 years total experience overall, with thorough working knowledge in Quickbooks, Word, Excel, online banking, and electronic invoicing. Major medical insurance is offered, as is retirement plan with company matching contribution.
Vinyl Installer
City Neon is looking for a full time vinyl graphics installer. Candidate must have minimum of 1 year of experience installing vinyl graphics and a basic knowledge of the graphics manufacturing process and software.